Avient Extends Cable Lifetime with New ECCOH™ LSFOH Grades for Industrial and Telecom Cables
November 8, 2021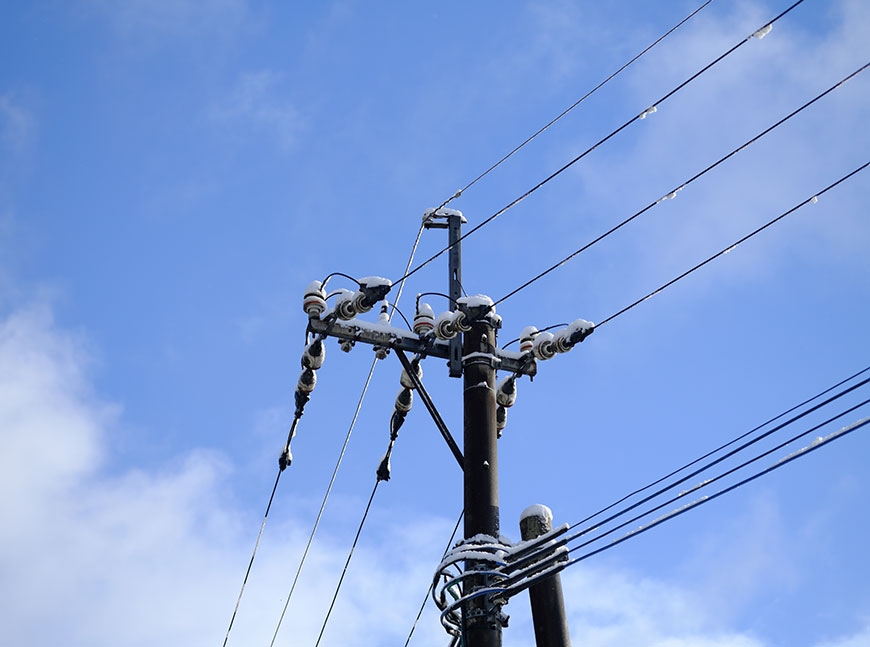 Caption: With excellent environmental stress crack resistance (ESCR), ECCOH™ 5978 UV formulations are ideal for use in aerial drop cables, which are often under continuous stress from the clamps that hold them in place.
[To download a high-resolution image, please click here: FOR MEDIA USE ONLY]
LUXEMBOURG – November 8, 2021 – Avient Corporation, a premier provider of specialized and sustainable material solutions and services, today launches new ECCOH™ grades for telecom and industrial cable manufacturers. These materials expand its Low Smoke and Fume Non-Halogen (LSFOH) portfolio, and provide new solutions that can reduce waste by extending cable lifetime.
Continued growth in fiber optic cables, telecommunications infrastructure and the new IEC 60794-6 standard are increasing the need for LSFOH products. The two new formulations for cable jacketing, ECCOH™ 5565 and ECCOH™ 5978 UV expand Avient's solutions range and can improve the lifetime of cables.
ECCOH 5565 has excellent flexibility and environmental stress cracking resistance (ESCR), withstanding up to 20,000 flex fatigue cycles. This makes it useful for power and control cables in industrial machinery, heating and air-conditioning systems, and plant engineering systems, where resistance to flexing is required at installation or in use.
It also has good temperature resistance, performing over a broad temperature range, from minus 40 to 80 degrees Celsius and excellent resistance to water absorption. This makes it applicable for use in dry optical fiber cable applications or where added cold resistance is required including indoor and outdoor duct cable applications, power-to-the antennas, or hybrid cables for 5G applications.
ECCOH 5978 UV formulations combine high flame retardancy (up to CPR class B2ca, s1, a1, d) and good char forming properties with great ESCR. This makes them valuable in aerial drop cables, which are often under continuous stress from the clamps that hold them in place. These formulations also provide excellent UV resistance protecting outdoor/indoor cables from varying weather conditions.
ECCOH 5978 UV formulations can be applied to direct buried cables and other duct or indoor applications, in which additional flame and low dripping performance are required and/or where cable fixations and movements create extra stress on the cable jacket.
"In a world where communication speed and reliability have become critical, high performing cable solutions are on the rise," said Matt Mitchell, director, global marketing at Avient. "These new formulations can help cable manufacturers meet demand and prolong the life time of their products."
For a complete overview of the ECCOH™ LSFOH range visit www.avient.com.
About Avient
Avient Corporation (NYSE: AVNT), with expected 2021 revenues of $4.75 billion, provides specialized and sustainable material solutions that transform customer challenges into opportunities, bringing new products to life for a better world. Examples include:
Unique technologies that improve the recyclability of products and enable recycled content to be incorporated, thus advancing a more circular economy
Light-weighting solutions that replace heavier traditional materials like metal, glass and wood, which can improve fuel efficiency in all modes of transportation and reduce carbon footprint
Sustainable infrastructure solutions that increase energy efficiency, renewable energy, natural resource conservation and fiber optic / 5G network accessibility
Avient employs approximately 8,400 associates and is certified ACC Responsible Care®, a founding member of the Alliance to End Plastic Waste and certified Great Place to Work®. For more information, visit www.avient.com.
To access Avient's news library online, please visit www.avient.com/news-events.
Media contact
Michelle Maniscalco
Senior Manager, Marketing Communications
Avient Corporation
michelle.maniscalco@avient.com