Wilflex EPIC™ Rio Color Mixing System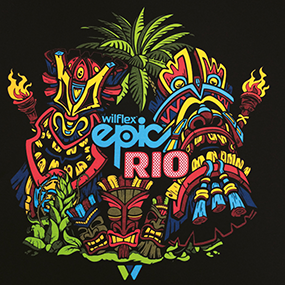 Epic™ Rio is the latest non-phthalate color mixing system from Wilflex, and it's been designed with the latest pigment technology for optimum color strength.
PANTONE® identified Epic Rio inks boast an extended color range of 18 finished ink mixing components. Together, these provide a perfect balance of color accuracy, vibrancy and opacity for peak press performance and color design.
For guidance on color mixing, go to www.wilflex.com/IMS. Register and download our Ink Management Software application, then select Epic Rio color system in the upper right corner. All PANTONE® identified formulas can be found here.
Are you on a mission to wipe out too-thick and dull colors? See what Epic Rio can do for your prints.
NOTE: Epic Rio is currently available in North America, Europe, the Middle East, and Africa.
Highlights
Colorful – vibrant colors that pop
Accurate – best in class Pantone matches
Opaque – get to color on press faster and achieve greater flexibility in mesh sizes, print strokes and direct printing
Low cure – save energy, reduce bleed defects
Creamy Inks – manual or automatic press, press ready, no need to slow down print stroke
Simple – finished ink mixing system, easy mixing, easy matching, easy printing 
Consistent – short run, long run, color to color and batch to batch consistent
---
Product Name
ATTRIBUTES
Epic Rio Mixing White
Very strong mixing white with higher loading for increased opacity

Epic Rio Deep Black
Strong bright general purpose black

Epic Rio Blaze Orange
Strong orange with red undertone

Epic Rio Red
High performing, bright red with optimum durability to pass crock test

Epic Rio Barberry Maroon
Strong red with a strong blue undertone. Used to create maroon and burgundy colors requiring blue undertones

Epic Rio Majestic Magenta
Strong, clean magenta with blue undertone. Excellent for making fuchsias and rhodamine colors

Epic Rio Deep Violet
Very strong purple with blue undertone

Epic Rio Midnight Blue
Strong blue with red undertone

Epic Rio Aquamarine
Clean blue with a slight red undertone

Epic Rio Indigo Blue
Strong blue with green undertone

Epic Rio Forest Green
Very strong green with blue undertone

Epic Rio Sunshine Yellow
Bright, transparent yellow with green undertone. Very clean in mass tone and tint

Epic Rio Golden Yellow
Bright, strong yellow with red undertone

Epic Rio Electric Yellow
Very bright, transparent yellow with green undertone

Epic Rio Electric Blue
Bright, transparent blue with a green undertone

Epic Rio Electric Purple
Bright, transparent purple with reddish blue undertone. Used to brighten and clean purple and magenta colors

Epic Rio Electric Red
Very bright, transparent red. Used to brighten and clean red and orange colors

Epic Rio Electric Pink
Bright, transparent pink with a blue undertone
| NAME | CATEGORY | DESCRIPTION | |
| --- | --- | --- | --- |
| Wilflex™ EPIC Rio - Color Chart (Chinese) | Brochures & Product Information | Visual aid for EPIC Rio ink colors (Chinese language version) | View |
| Wilflex™ EPIC Rio - Color Chart (English) | Brochures & Product Information | Visual aid for EPIC Rio ink colors (English language version) | View |
| Wilflex™ EPIC Rio - Product Bulletin (Chinese) | Brochures & Product Information | | View |
| Wilflex™ EPIC Rio - Product Information Bulletin (Chinese) | Product Bulletin | Non-phthalate textile screen printing color ink mixing system designed using the latest pigment technology and formulated for excellent color strength (Chinese language version) | View |
| Wilflex™ EPIC Rio - Product Information Bulletin (English) | Product Bulletin | Product highlights, printing tips, compliance information, recommended parameters and precautions (English language version) | View |