Wilflex™ Color System Kits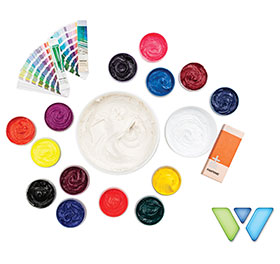 Support and maintenance in keeping color system users plugged in.
Wilflex™ Kits provide support and maintenance for keeping color system users around the world plugged into the latest in color and design trends in their ink rooms.
These kits are available for many Wilflex products to allow for easy color mixing. Join the hundreds of Wilflex Color System Users today.
---
Product Name
Description
EPIC MX KIT
1 GallonEpic Mixing White, 14 Epic MX Colors (Quart), Epic HalfTone Base(Quart), HD Clear 2(Quart), Epic Sprint White (Gallon), Pantone Formula Guide
EPIC MXKITG MAXI MX STARTER KIT
5 Gallon Epic Mixing White, 14 Epic MX Colors (Gallon), Pantone Formula Guide
EPIC EQUALIZER KIT
1 Gallon 15000PFB EPIC MIXING BASE, 15 Equalizers(Quarts), Pantone Formula Guide
EPIC EQUALIZER KIT 5G BASE
5 Gallons 15000PFB EPIC MIXING BASE, 15 Equalizers(1 Gallon), Pantone Formula Guide
EPIC EQUALIZER KIT (AB)
1 Gallon 12004PFB EPIC AMAZING BASE, 15 Equalizers(Quarts), Pantone Formula Guide
EPIC EQUALIZER KIT 5G BASE (AB)
5 Gallons 12004PFB EPIC AMAZING BASE, 15 Equalizers(1 gallon), Pantone Formula Guide
EPIC PC EXPRESS STARTER KIT
1 Gallon 15000PFB EPIC MIXING BASE, PC Extra White(Quart)14 PC Express Pigment Concentrates(Pints), Pantone Formula Guide
EPIC PC EXPRESS KIT W/5G BASE
5 Gallon 15000PFB EPIC MIXING BASE, PC Extra White(Quart)14 PC Express Pigment Concentrates(Pints), Pantone Formula Guide
EPIC PC EXPRESS STARTER KIT (AB)
1 Gallon 12004PFB EPIC AMAZING BASE, PC Extra White(Quart)14 PC Express Pigment Concentrates(Pints), Pantone Formula Guide
EPIC PC EXPRESS KIT W/5G BASE (AB)
5 Gallon 12004PFB EPIC AMAZING BASE, PC Extra White(Gallon)14 PC Express Pigment Concentrates(Quarts), Pantone Formula Guide
EPIC TOP SCORE LBFF KIT
1 Quart of Epic Top Score White, Epic Top Score National Red, Royal Blue, Kelly Green, Gold (Pints)
INFINITE FX STARTER KIT
Quarts of Epic HD Clear2, Epic HD Sharp Clear, Epic NuPuff Base, Epic Fashion Soft Base, Epic Sculpture Base, Epic Rock Base, Epic Plush Base, Epic Cork Base, 4 Empty Mixing Containers with lids.
WILFLEX™ OASIS PC STARTER KIT (PZ)
Pints of 15 Wilflex Oasis Pigment Concentrates (PC Express), plus Oasis Gold and Ultramarine PCs