Because consumers rely heavily on phone cases to protect their expensive and fragile smart phones, impact protection is a key priority in phone case designs. Historically, designers, engineers and product managers have chosen materials such as standard thermoplastic elastomers (TPEs), thermoplastic polyurethanes (TPUs), silicones and foam for impact protection performance.
Shock absorbing TPEs are the latest technology developed specifically for phone cases with impact protection properties.  To test the impact protection performance of this new material, a drop test experiment was performed at an independent test lab to understand how shock absorbing TPEs perform relative to TPU.
Why drop testing?
Real world application testing helps measure end product performance in a practical way. Drop testing was selected as the test method of choice for this experiment because it simulates the impact conditions a phone case experiences in the real world. 
Drop testing often uses qualitative military specification (MIL-SPEC) pass/fail criteria and does not provide quantifiable data to accurately compare relative material performance. To enhance drop test results during this experiment and to quantify impact severity, the independent test lab measured Peak G forces using an internal iPhone accelerometer.
Measuring Peak G forces is a proven method for understanding the quantitative level of effectiveness provided by a protective product being repeatedly subjected to severe impacts, such as helmets. In the experiment conducted at the lab, Peak G forces measured the impact force upon the phones when dropped. Lower Peak G values correlate to less potential damage to the phone.
How was the experiment conducted?
Two iPhone 6/7 cases were dropped from a range of heights, from 4 to 14 feet. Both iPhone cases used TPU on the exterior, while the control case used TPU on the interior and the second case used shock absorbing TPEs on the interior. The Shinyei Technology Drop Tower D-202 Series dropped each phone case three times, on the same corner of the phone, at each drop height.
The internal iPhone accelerometer was used to measure Peak G.
What were the results?
Versaflex™ XP shock absorbing TPE performs better at drop heights of 10 – 14 feet. Versaflex XP at 14 feet performs nearly the same as TPU at 10 feet.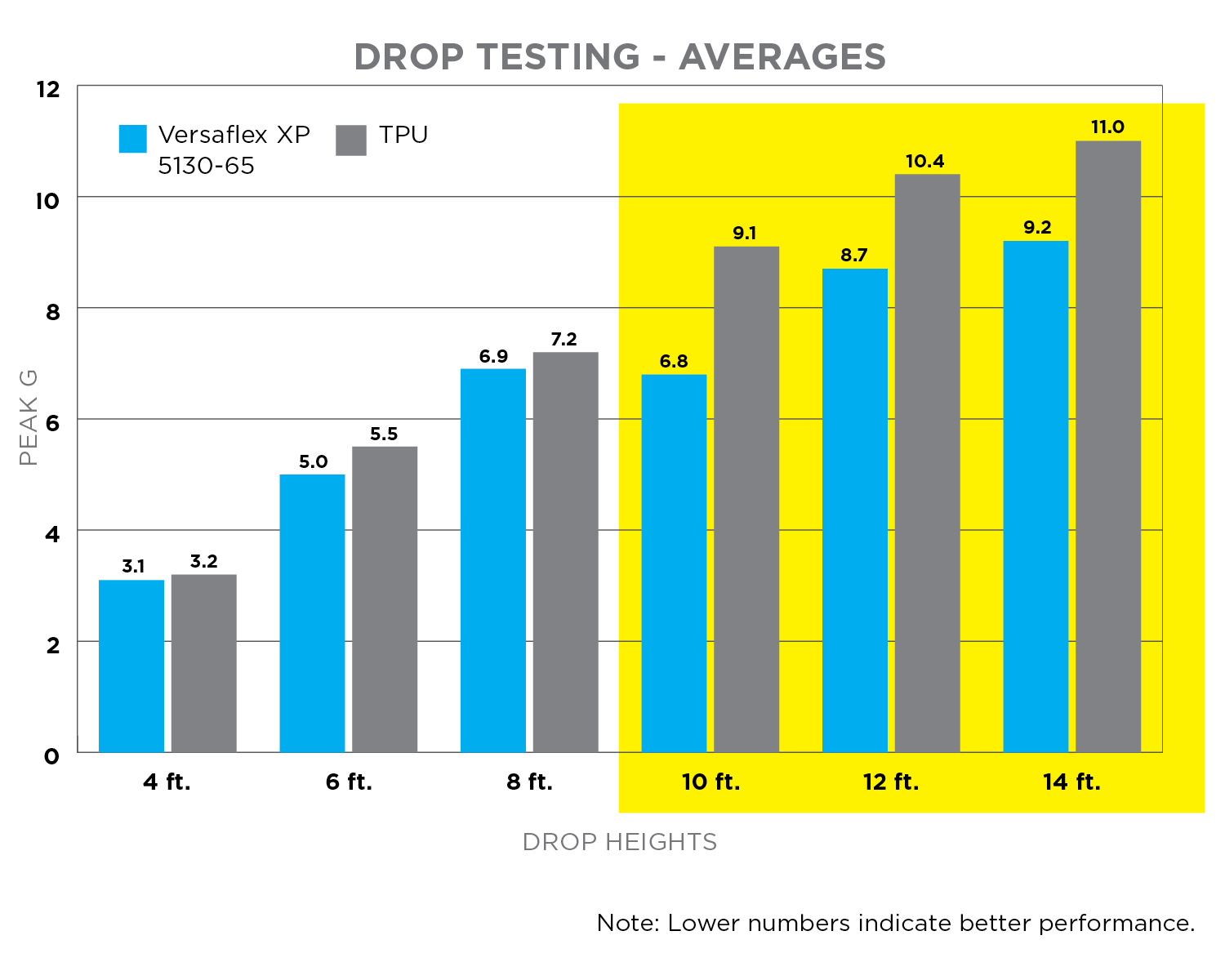 Why should I consider shock absorbing TPEs for my phone case design?
In addition to having impact protection performance, these specially designed TPEs are easily processed and overmold to common substrates, phone case brands can count on having greater design freedom while creating their latest and greatest impact protection phone case models. 
Where can I learn more?
Click here to connect with one of our experts to learn more about these technologies.