Santoprene™ TPVs for Healthcare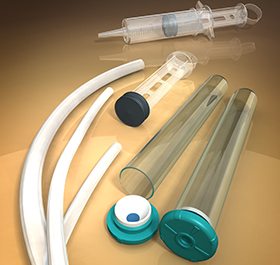 Potential medical applications using thermoplastic elastomers
Manufactured by ExxonMobil® Chemical, Santoprene™ thermoplastic vulcanizates (TPVs) provide elastic recovery, excellent chemical and temperature resistance, and compliance with medical market standards—making them ideal candidates for medical device applications.
Santoprene TPV medical products are distributed by Avient Distribution in North America and Avient GLS™ Thermoplastic Elastomers in Europe. GLS can also formulate custom materials based on Santoprene TPV.
For more information about distributed or formulated Santoprene TPVs please contact us today.
Representative Applications
Syringe tips
Peristaltic tubes
Seals and gaskets
Grips