Wilflex™ One Metallics, Shimmers & Glitters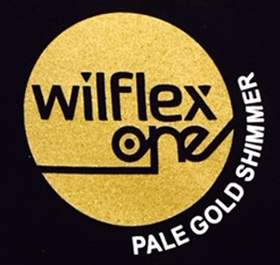 Use our standard Metallics, Shimmers & Glitters or tint to create custom colors.
Wilflex One Metallic, Shimmer & Glitter inks are non-PVC, non-phthalate plastisol screen-printing inks for apparel. These inks have been specially formulated to provide textile printers with the same application parameters as conventional vinyl plastisol ink systems. Shimmers and glitters are customizable by tinting with Wilflex One inks or adding your own glitter particles to the Wilflex One Particle Base for a unique look with endless possibilities.
---
Metallics, Shimmers & Glitters
Product Name
Description
Wilflex One Silver Shimmer
Shimmering effects using fine detail flakes with a light ink deposit feel
Wilflex One Rich Gold Shimmer
Shimmering effects using fine detail flakes with a light ink deposit feel. Gold shimmer with a green undertone
Wilflex One Pale Gold Shimmer
Shimmering effects using fine detail flakes with a light ink deposit feel. Gold shimmer with a red undertone
Wilflex One Silver Glitter
Glitter effect with a big-flake finish to bring a brilliant dazzle to your next print design
Wilflex One Gold Glitter
Glitter effect with a big-flake finish to bring a brilliant dazzle to your next print design
Wilflex One Yellow Sparkle
Glitter effect with a big-flake finish to bring a brilliant dazzle to your next print design
Wilflex One Particle Base
Optically clear plastisol ink designed to be used as a carrier for polyester flakes, glitters and other particles