Wilflex™ Epic Clear Inks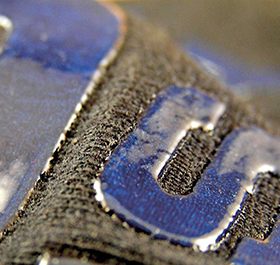 Clear inks can produce tonal and functional effects to meet your desired look.
Wilflex™ Clear inks can be used as a functional component or a dimensional feature to your design. An overprint of Epic Special Effect Clear can improve durability, wash fastness, increase glossiness and enhance aesthetics. 
---
Product Name
Description
Epic HD Clear 2
Simulates glass, gel, water or high gloss surfaces. Use as an adhesive carrier for foil, flock, and other applications.
Epic HD Sharp Clear
High density clear with sharp edges.
Epic Special Effects Clear
Used as a overprint clear.
Epic Brittle Clear
Brittle Clear has a worn, tough finish that can resemble cracked paint or distressed appearance
Epic Metallic Base
Optically clear carrier for metallic powders
Epic Halftone Base
Designed to product process and flourescent colors
Epic Particle Base
Crystal clear ink designed for use with poly-flake glitters and other particles