Wilflex™ Epic Color System Equalizers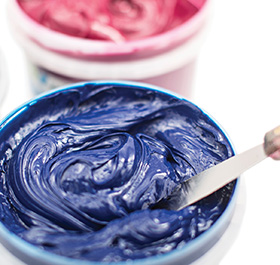 Intermixable balanced colorants with a Wilflex base create easy-to-use color systems.
Wilflex™ Epic Color System Equalizers are comprised of 15 non-phthalate, intermixable balanced colorants and a Wilflex base. Equalizer color matching enables printers to produce Pantone simulations in an easy-to-use system. Create high production, wet-on-wet printing with a matte finish and excellent crock resistance. Color System Equalizers are supported by IMS Software, are Pantone approved and can be accurately matched to the color required for your design. 
---
Product Name
Attribute
Epic Equalizer PC White
Very strong white dispersion with high Brightness level. Helps build opacity
Epic Equalizer Maroon
Very strong blue shade red dispersion, perfect for created maroons, or burgundy colors requiring a blue undertone.
Epic Equalizer PC Magenta
Strong, clean magenta with blue undertone, excellent performance properties and high tint strength.
Epic Equalizer PC Violet
Blue Shade Violet exhibits outstanding performance properties and high tint strength.
Epic Equalizer PC Blue
General purpose Strong green-shade blue; excellent performance properties
Epic Equalizer PC Green
Very strong blue-shade green dispersion; high tint value
Epic Equalizer PC Yellow
Bright, Clean yellow shade with slight green undertone; high tint value
Epic Equalizer PC Velvet Black
Universal black that exhibits a brown undertone; can be made bluer with small amount of Marine Blue.
Epic Equalizer PC Bright Orange
Opaque, very strong orange dispersion with a blue shade red undertone.
Epic Equalizer PC Marine
Strong, clean blue dispersion with a slight red undertone. Makes clean blues with little opacity.
Epic Equalizer PC Red
Very clean, warm red with blue undertone. Excellent for producing warm reds and oranges.
Epic Equalizer Bright Blue
Very strong, red-shade blue dispersion. Excellent for making intense or opaque royal or red-shade navy.
Epic PF Fluorescent Pink
Bright, transparent pink. Very weak in color with a blue undertone.
Epic PF Fluorescent Red
Very bright, transparent red. Used to brighten red and orange shades.
Epic PF Fluorescent Purple
Bright, transparent purple-shade. Reddish blue undertone. Use to achieve difficult purple and magenta colors.
Epic PF Fluorescent Blue
Bright, transparent blue with a green undertone
Epic PF Fluorescent Yellow
Very bright, transparent yellow dispersion with green undertone.
| NAME | CATEGORY | DESCRIPTION | |
| --- | --- | --- | --- |
| Wilflex™ Epic Series - Product Bulletin | Product Bulletin | Wilflex Epic puts the most advanced non-phthalate ink technology to work foryou | View |
| Wilflex™ Equalizer Color Matching - Product Bulletin | Product Bulletin | Enable printers to produce PANTONE® simulations; inks are suitable for high production, wet-on-wet printing and offer a matte finish and crock resistance; product information and recommended parameters | View |