Wilflex™ Epic Color System Bases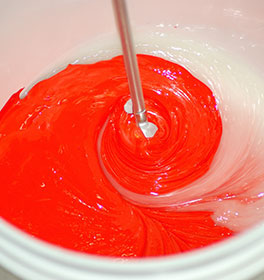 A neutral mixing base and proper set of pigments can create the perfect finished ink.
Wilflex™ Color System Bases are offered in different chemistries and engineered to address different substrates, compliances and performance requirements across the globe. This component system requires a neutral mixing base and set of proper pigments to create the perfect finished ink.
Many Wilflex bases should not be printed without the addition of pigment concentrates and should be used within their recommended shelf life. Because some bases thicken with age, always preprint and test ink for desired print characteristics. These bases feature IMS Software Support, Pantone approval, accurate color matches, general purpose or specialty bases and starter kits from Wilflex distributors.
---
EPIC PC SYSTEM - MIXING BASES
Product Name
Attribute
Epic Amazing Base
Versatile mixing base, vector and halftone printing.
Epic Mixing Base
Versatile mixing base, best in class for simulated process and high mesh printing.
Epic Nylon Mesh Base
Epic Nylon Mesh produces a smooth, highly durable base for graphics on nylon mesh and nylon dazzle cloth.
Epic One Step Nylon Base
OSN white is designed to perform on Nylon weaves without the addition of catalyst, it will not dry in the screen or harden in the container.
Epic Stretch Base
Formulated to cure at lower temperatures to prevent or substantially reduce shrinkage of heat-sensitive fabrics.
Epic Top Score LBFF Base
Matte finish, manual or automatic printing, bleed resistance.
Epic Performance Base
Satin finish with excellent stretch and bleed resistance.
Epic Athletic LB Base
Designed for printing on fabrics prone to dye migration, such as polyesters and poly/cotton blends.
| NAME | CATEGORY | DESCRIPTION | |
| --- | --- | --- | --- |
| Wilflex™ Epic Amazing Base 12004PFXAB - Product Bulletin | Product Bulletin | Wilflex™ Epic Amazing Base for manual and automatic screen printing on 100% cotton and cotton/poly blend substrates; product information and recommended parameters | View |
| Wilflex™ Epic Athletic LB Base 10099PFXATH - Product Bulletin | Product Bulletin | Non-phthalate, low-bleed plastisol ink with excellent opacity, brightness, and dye bleed resistance designed for printing on fabrics prone to dye migration; product information and recommended parameters | View |
| Wilflex™ Epic Echo Mixing Base 14000PFB - Product Bulletin | Product Bulletin | Specially formulated, highly opaque non-phthalate base for Epic PC and Epic Equalizer mixing systems; product information and recommended parameters | View |
| Wilflex™ Epic Mixing Base 15000PFB - Product Bulletin | Product Bulletin | Specially formulated non-phthalate base for Epic PC and Epic EQualizer mixing systems designed for high productivity and wet-on-wet printing; product information and recommended parameters | View |
| Wilflex™ Epic Nylon Mesh Base 11422PFXMSH - Product Bulletin | Product Bulletin | Non-phthalate ink designed to print directly onto 100% nylon open mesh and dazzle cloth; product information and recommended parameters | View |
| Wilflex™ Epic One-Step Nylon Base 19930PFXOSN - Product Bulletin | Product Bulletin | Specially formulated non-phthalate ink designed to print onto "untreated" nylon substrates; product information and recommended parameters | View |
| Wilflex™ Epic Performance Base 18600PFXPB - Product Bulletin | Product Bulletin | Non-phthalate plastisol inks designed to print onto a variety of specialty fabrics, including high performance athletic stretch polyester and polyester blended fabrics; product information and recommended parameters | View |
| Wilflex™ Epic Series - Product Bulletin | Product Bulletin | Wilflex Epic puts the most advanced non-phthalate ink technology to work foryou | View |
| Wilflex™ Epic Stretch Base 10005PFX - Product Bulletin | Product Bulletin | Wilflex™ non-phthalate plastisol ink specially formulated to cure at lower temperatures than conventional plastisol inks; product information and recommended parameters | View |
| Wilflex™ Epic Top Score LBFF Base 17600LBFF - Product Bulletin | Product Bulletin | Non-phthalate plastisol ink designed to meet demands of the athletic market with a solution for printing on polyester substrates that require low cure temperatures; product information and recommended parameters | View |