Wilflex™ Epic Color System PC Specialty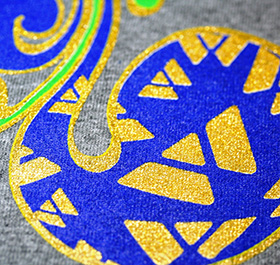 Colorants, particles and powders available in different sizes and color values.
Our specialty particles and powders can be used functionally, as well as being used to provide extra sparkle for a design.
For applications when pigment migration is a concern, the PC Specialty Color System features non-migrating pigments. Pigment migration occurs when certain pigments show solubility in the plasticizer, resulting in contact bleed or staining onto another material. 
PC Specialty also includes polyester flakes and fluorescent and metallic pigments to give added shine and brightness to fit your creative needs. 
Epic Pigment Concentrates (PCs)
PRODUCT NAME
ATTRIBUTES
Epic Yellow PCNM
Non migrating, yellow shade red dispersion
Epic Red PCNM
Non migrating, yellow shade red dispersion
Epic Blaze Gold PC
Red Shade yellow dispersion with medium opacity, used to make opaque golds
Epic Clear PC
Thickened reducer used to balance plasticizer-resin level without reducing viscosity
Epic Red PC
Warm blue shade red, very clean.
Epic Bright Blue PC
Very strong, red-shade blue dispersion. Excellent for making intense or opaque royal or red-shade navy.
Epic Electron Green PC
Bright, transparent fluourescent green
Epic Electron Orange PC
Bright yellow-orange fluorescent dispersion with slight red undertone. Use to brighten up reds and orange shades.
Epic Fluorescent Neon PC
Bright, transparent fluorescent orange-red dispersion. Used ot brighten up reds and orange shades
Epic Fluorescent Magenta PC
Bright, transparent, fluorescent magenta with strong blue undertone. Useful in brightening magenta shades
---
Product Name
Attributes
EPIC CRYSTAL CLEAR HEX
Clear polyester flake, resembling "sugar"
EPIC INT YELLOW SPARKLE
Iridescent glitter creating rainbow of reflections
EPIC PALE GOLD
Small, light gold polyester flake
EPIC DARK GOLD
Dark Gold with slight red undertone metallic powder
EPIC SILVER
Bright silver powder used in Silver Shimmer
EPIC SHIMMER SILVER
Silver polyester flake used in Silver Glitter
EPIC SILVER GLITTER
Large silver polyester flake used in Silver Glitter
EPIC GOLD GLITTER
Large gold polyester flake used in Gold Glitter
EPIC EXCITE YELLOW
Phosphorescent powder used to make glow in the dark inks
EPIC SHINING GOLD
Dark gold polyester flake used in Gold Glitter
EPIC KOSMIC GLO POWDER
Phosphorescent powder with Extended afterglow
EPIC FIRE RED GLITTER
Bright red polyester flake