OnCap™ Light Diffusion Solutions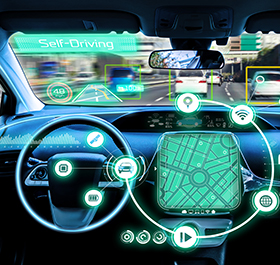 Lighting is a central aspect in the interior design of a vehicle, for reasons both aesthetic and functional. Consumers, accustomed to light adjustment options in their homes, want the same level of comfort in passenger cars. OnCap™ light diffusion solutions enable manufacturers to develop consumer-pleasing automotive lighting systems that also meet OEM's demands for manufacturability and cost management.
Our experience with the formulation of light diffusion masterbatches enables us to meet our customers' goals for light diffusion and light transmission with masterbatch solutions that provide more design and production flexibility than standard compounds. We offer solutions for the transparent and translucent thermoplastics used in the automotive industry (typically PMMA and PC).
Highlights
Our light diffusion masterbatches deliver a customer-specified mixture of light transmission, light diffusion, and hiding power.
What is light diffusion?
Light diffusion describes the way a lens diffuses—spreads—the light from a light source. Diffusing the light creates a soft, comfortable lighting experience. The art is in managing the light so it is effectively diffused but still bright enough to meet functional demands. Automotive lighting applications typically require high diffusion plus a high transmission rate.
What is light transmission?
Light transmission refers to what percentage of the light generated by the source is passed through a lens.
What is hiding power?
Hiding power describes whether you can see the light source (for example, an LED) through the lens, or not. Most applications require that the light source be somewhat or well hidden.
| NAME | CATEGORY | DESCRIPTION | |
| --- | --- | --- | --- |
| Color and Additives Solutions Overview | BU Overview | Colorant and additives overview and capabilities | View |
| Light Diffusion, Simplified - Case Study | Case Study | Achieving aesthetics and manufacturing efficiencies with a single Smartbatch solution | View |
| OnCap™ Light Diffusion Automotive Solutions Brochure | Brochure | Learn more about Avient's light diffusion solutions | View |