Innovation: The Lifeblood of a Specialty Organization
At Avient, innovation and sustainability are the lifeblood of our company. In fact, our sustainable solutions portfolio has grown over 2.5 times since our baseline year 2016. Our proven ability to innovate materials that enable our customers' sustainability goals remains a key differentiator for our company. And sustainability is an integral part of our innovation strategy.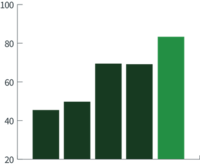 R&D Spend
Our guiding principles are outlined in our Sustainability Promise. A crucial enabler to living this pledge is having deep material science and commercial expertise on our team, and we've invested heavily in this area. Since 2014, we have significantly increased our commercial resources in R&D, Sales and Marketing. These highly-talented Avient associates add value to our customers and improve sustainability through collaboration and formulating specialty polymer solutions with our Phased Offering Launch process, a proprietary means through which we take new solution ideas from concept to commercialization.
One measure of innovation success we use is our Vitality Index, which shows the percentage of our specialty sales generated from solutions introduced in the last five years. In 2021, our Vitality Index reached 35%, validating the strength of our technology portfolio. We are committed to growing our innovation pipeline by developing innovative products that meet dynamic market trends and customer unmet needs, as featured in this Sustainability Report.